Hutton Doors
Hormann

Entrance Doors
Hutton Doors is a reconised installer of all Hormann domestic proucts this includeds Hormann entrance doors, internal doors and garage doors.
Which front door meets your requirements?
Your front door should be very special. It should match the style of your home and be prestigious, expressing your good taste
Discover the four front door versions from Europe's no. 1 manufactutrer. Each one is guaranteed to meet your demands in its own way. Yet they all have one thing in common: true Hörmann brand quality!
Please find Hormann Aluminium and Steel ranage brochurers below.
Aluminium Entrance Doors
Thermo 46 Thermo 65
Reasons
To Buy Hormann Entrance Doors:
Door leaf without visible leaf profile
Our ThermoCarbon, ThermoSafe and Thermo65 front doors give you an exquisite and elegant reception. The shapely door leaf with its solid interior and exterior and leaf profile on the inside fulfils the highest design requirements.
The interior view harmonises perfectly with your residential internal doors and looks particularly elegant with concealed hinges, which come as standard for ThermoCarbon and are optional for ThermoSafe front doors.
Excellent thermal insulation

Our doors are the new generation of highinsulation front doors. With UD-values up to 0.87 W/ (m²·K), Thermo65 doors have excellent thermal insulation values. ThermoSafe front doors are also distinguished by their UD-values of up to 0.8 W/ (m²·K). Both door systems comply with all the requirements of the new EnEV 2014. Our ThermoCarbon front doors are clearly the world champions when it comes to thermal insulation:
They Feature unparalleled UD-values up to 0.47 W/ (m²·K) and are also certified for low-energy houses by the IFT Rosenheim.
For ThermoSafe and ThermoCarbon front doors with glazing, the door leaf is foamed together with the glazing and not beforehand, as is usually the case. This patented solution means that we can achieve even better thermal insulation, as the foam is combined with the glazing in an optimal way that prevents thermal bridges.
* Door size 1250 × 2200 mm (the UD-value is dependent on the door size)
Break-in-resistant locking

Our front doors set new standards for security. All doors are equipped with multiplepoint locking as standard. This means the hinge side is also protected against forced opening. All our front doors are optionally available with especially break-in-resistant RC equipment to give you and your family even more security. Featuring security equipment up to RC 4, ThermoCarbon front doors are at the top of their class. Our doors` certified break-in resistance is also recommended by police information centres.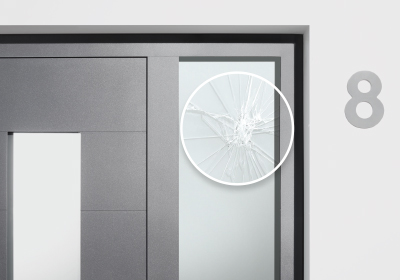 Safe glazing

When it comes to industrial safety and burglar protection, Hörmann front doors fulfil the highest demands. The 8-mm-thick laminated safety glass on the interior and exterior of the insulated glazing provides maximum security.
In case of breakage, the glass splinters are bound and stay adhered to the plastic film on the inside, virtually eliminating any danger of being injured by the shards. Furthermore,
the laminated safety glass offers better protection against burglars as it makes reaching through more difficult.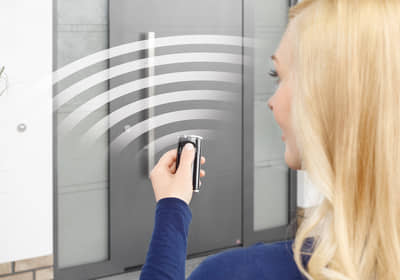 Barrier-free entrances
The Hörmann

 

ECturn opening aid makes it easier for you to open

 your ThermoCarbon, ThermoPlan Hybrid, ThermoSafe Hybrid or ThermoSafe entrance door. Due to low energy operation, the opening aid requires no safety devices. 

The new HDO 200 door operator opens and closes your TopComfort entrance door fully automatically.

For your security, the Flatscan sensor monitors the inside and outside of the door. Both systems can be conveniently operated with Hörmann BiSecur hand transmitters or radio buttons.
Room-high entrance doors
ThermoSafe and ThermoCarbon front doors in XXL versions offer you generously proportioned entrance designs and increased comfort. 
ThermoSafe styles
 are available up to a height of 
2500 mm, and ThermoCarbon even up to 3000 mm
.
Retractable bottom seal with weather protection
The retractable bottom seal with weather protection enables a doorway without threshold for completely barrier-free entrances and also ensures the best possible sealing of the door bottom edge. It is optionally available for all ThermoSafe entrance doors.
Smart app operation
Simply use your smartphone as a hand transmitter. With the new Hörmann BlueSecur app, you can conveniently operate your garage door or entrance door via Bluetooth**. In addition, other user permissions*** can easily be permanently or temporarily transferred to the smartphones of your family members. This ensures they always carry their personal "door and gate opener" with them on their smartphone.
** In conjunction with an internal / external Hörmann Bluetooth receiver
*** Additional purchases (in-app purchases) may be required from the App Store or Google Play.
Our thermal insulation world champion that is at the top of its class in terms of security for aluminium front doors excels with UD-values up to approx. 0.47 W/(m²·K), superior RC3 security equipment as standard with 9-point locking and an impressive high-tech leaf profile made of carbon glass-fibre hybrid material.
Style 860
Style 686
Style 830
Style 310
Style 680
Style 300
Style 305
Style 302
Hormann
ThermoPlan Hybrid:
If you value an especially elegant door appearance, the ThermoPlan Hybrid door is your first choice. It impresses with a flush-fitting transition from door leaf to frame on interior and exterior. Further advantages are high leaf rigidity due to a powder-coated stainless steel sheet.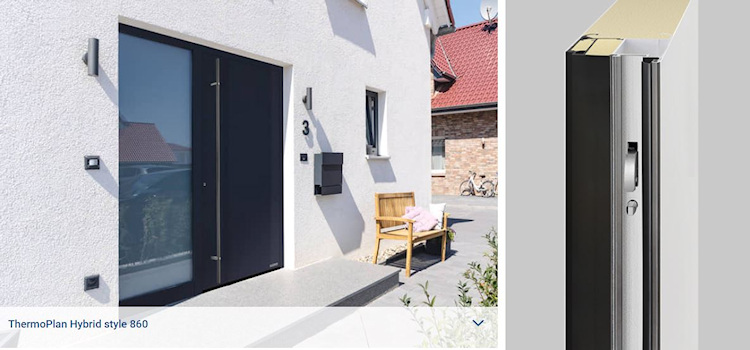 Style 189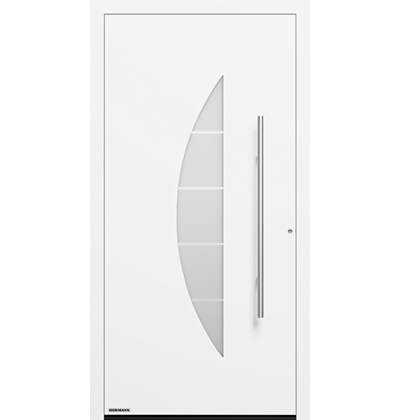 Style 505
Style 502
Style 862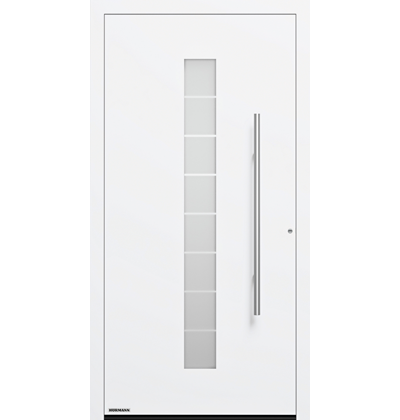 Style 503
Style 871
Style 304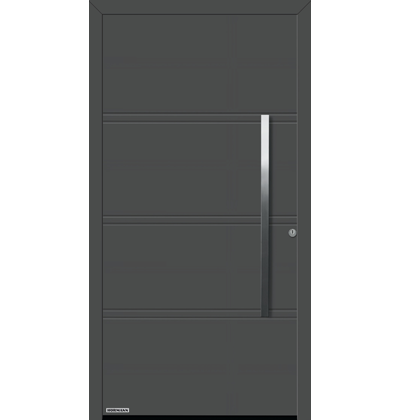 Style 872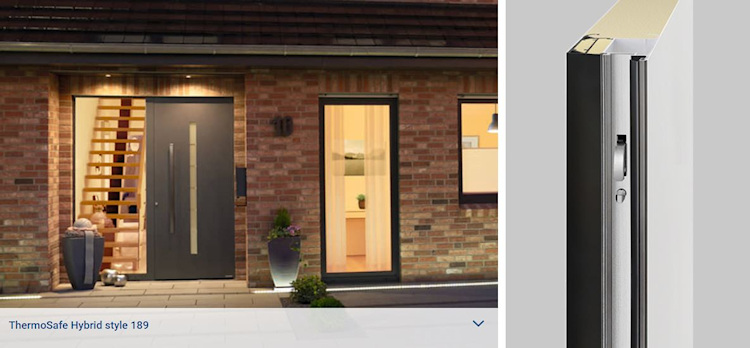 Hormann
ThermoSafe Hybrid:
Especially high thermal insulation thanks to 80 mm aluminium door frames with thermal break, as standard with a 5-point security lock and RC 4 for doors without glazing, or RC 3 for doors with glazing. The ThermoSafe Hybrid impresses with a powder-coated stainless steel sheet and high form stability, even in case of large temperature differences.
Style 524
Style 797
Style 551
Style 777
Style 583
Style 832
Style 693
Style 862
Particularly high thermal insulation thanks to a 80-mm aluminium door frame with thermal break, standard RC 3 security equipment with a 5-point security lock and a selection of over 70 styles – these are only a few of the convincing arguments our ThermoSafe front door has to offer.
Style 504
Style 505
Style 502
Style 867
Style 860
Style 501
Style 503
Style 686
The Thermo65 front door with steel door leaf and aluminium frame offers good thermal insulation values and high break-in resistance with a 5-point security lock. Last but not least, Thermo65 has an excellent price-performance ratio.
Style 600
Style 515
Style 700
Style 100
Style 115
Style 410
Style 800
Style 430
Are you looking for an entrance area bathed in sunlight with a glass front door that is well equipped in terms of thermal insulation and security? Then our TopComfort front door is the right choice for you. Select your favourite from 9 glazing designs and a variety of ornamental glazings.
Style 100
Style 100 MG115
Style 101
Style 100 MG 112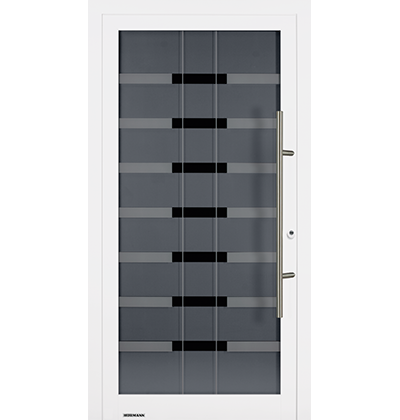 Style 100 MG 111
Style 100 MG 113
Style 100 MG 114
Style 100 MG 116