Hutton Doors
Sliding

Doors
Sliding Sectional Doors
Sectional Garage Doors are made from Steel – Timber – Aluminium and are available in standard sizes or made to measure options.
Automate Easily
Insulated 42mm or 65mm
Large Choice of Colours
Sliding Garage Doors Explained
The door for special fitting situations and requirements
Hörmann side sliding sectional doors are the ideal solution for special fitting situations. In contrast to up-and-over doors, sectional doors or roller garage doors, this type of door opens to the side instead of upwards. This is especially advantageous if, for example, the garage ceiling has to remain free to store items (e.g. a surfboard) or the door leaf cannot be stowed underneath or fixed to the ceiling due to construction reasons (sloped roof, low lintel or obstructive drainpipes).
The 42-mm-thick, PU-foamed sandwich panels are characterised by excellent acoustic and thermal insulation in addition to good door leaf stability and smooth running.
Just Some Of The Sectional Door
Designs
Your tooltip content goes here
Your tooltip content goes here
Your tooltip content goes here
Your tooltip content goes here
Your tooltip content goes here
PDF Brochure Viewer
Please browse Hormann's Sliding Sectional garage door brochure online if you would a hard copy sent to you please call 01277 546010 or eMail: info@huttondoors.com or use our online request forms
If you have any questions or would like samples or surveys please just ask.
1: Precise door travel
Twin rollers made of wear-resistant plastic move reliably and precisely on the aluminium rail and prevent the door sections from jumping out. Additionally, they ensure smooth and easy door travel, making it easy to manually open the door. Stable connecting hinges on the rollers and between the PU-foamed 42-mm-thick sections ensure high door leaf stability.
2: Well-sealed
Thanks to the new floor rail with continuous bottom seal the side sliding sectional door impresses with class 2 water tightness and air permeability. This makes the door well-sealed against penetrating rainwater and leaves. This keeps the garage cleaner for longer which means it must be cleaned less often. In addition, the risk of accidents by slipping is reduced.
3: Securely locked
The bottom and top door guides close the door precisely. Two additional hooks on the sides of the door connect the end of the door leaf tightly to the side frame. In addition, this mechanical lock prevents the door from being forced open. To improve break-in resistance, manually operated doors can be optionally equipped with 3-point locking at the closing edge.
4: Well-guided
The bottom aluminium floor rail reliably guides the door sections and prevents the sections from swivelling out. The flat design allows barrier-free access.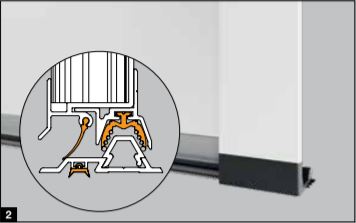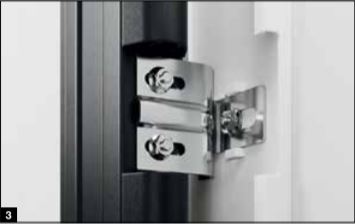 5: Easy fitting
The frame of the side sliding sectional door can be easily screwed together and can subsequently be fastened completely to the garage wall. Fitting in tight spaces with
a sideroom of only 140 to 450 mm is made possible with track application DS with double side guides. The side track can be easily fitted with the new adjustable wall brackets.
Have a Project in Mind?
Let's Get Building!