Hutton Doors
Internal

Doors
Hutton Doors is a reconised installer of all Hormann domestic proucts this includeds Hormann internal doors & frames please see below, we also supply and install tradional timber doors & frames supplied by Howdens. [ see link ]
Discover a new feeling of home with high-quality internal doors
With an internal door by Hörmann, you are literally choosing a "door for life". Our uncompromising quality assurance guarantees that our products have a long service life.
Whether classic or modern, White lacquer or Beech, with glass elements or stainless steel embellishments – Hörmann offers you the internal door that best suits you and your furnishings
Reasons
To Buy Hormann Internal Doors:
Flush-fitting: Planar lever handles
For a particularly elegant look, equip your door with the Planar handle. Its absolutely flush-fitting rose escutcheon, perfectly recessed in the door leaf, certainly impresses fans of design, whilst perfect elegance is achieved by the flush-closing doors with concealed hinges. Another fine detail: The omission of the keyhole drill holes means the design looks even more reduced and therefore more elegant.
4 × 4 concept: DesignLine Concepto
Sophisticated and versatile: The doors of the DesignLine Concepto offer you new design options for your home. Combine the high-quality ultra matt, slate and the new linen surface finishes with the Traffic white, Light grey, Anthracite grey and the new Taupe colour variants.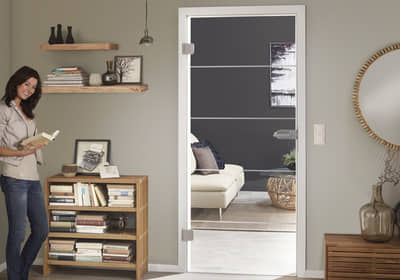 Nano-coating: all-glass doors
Do you want a light-flooded home? Then our all-glass doors are the perfect choice for you. Apart from its elegant door appearance, the GlassLine also convinces with regard to ease of care: All styles with sand-blasted glass are equipped with nano-coating for fewer fingerprints.
Styles matching DesignLine Groove and Concepto
For the perfect mix of timber and all-glass doors, we offer you the DesignLine Groove and DesignLine Concepto styles, matching the all-glass doors.
See and touch: Duradecor texture
The finely textured surfaces allow you to feel what you see. A wood grain texture is embossed into the door leaf, making the characteristic wood structure of the Duradecor texture surface tangible. This emphasises the cosy and natural living atmosphere in your home and is also extremely easy-care and hard-wearing.
Extremely impact-resistant: Duradecor surface

The high-quality surface will delight you: Duradecor features maximum shock resistance that is 48 % better than the average of the tested CPL surfaces from other manufacturers. It is also resistant, easy-care and heat-resistant, allowing you to enjoy your door for years to come.
Permanent resistance: 4Protect edge protector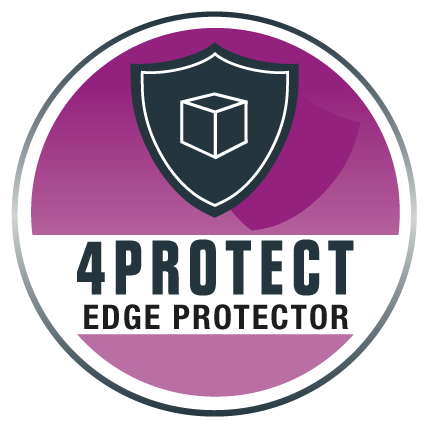 Our rebated doors with angular edges and our flush-closing doors with Duradecor White lacquer, Light grey, Anthracite grey and Taupe surface finishes are equipped as standard with the high-quality 4Protect edge protector.
This makes your timber room doors more resistant against everyday stress so you can enjoy them for many years to come.
High-quality and elegant: timber frame
Our timber frames impress with an attractive round edge and an edge radius of 3 mm (1). The 25-mm-thick lining board (2) and the robust Duradecor surface (3) provide a high-quality and elegant view of your new internal door.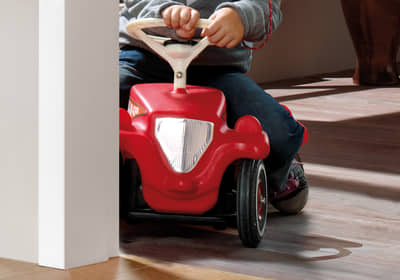 Beautiful and robust: steel profile frame
VarioFix is the name of our steel profile frame, which offers you many advantages: With the adjustable decorative rebate, it is fitted as simply as a timber frame. It is also extremely durable thanks to its high strength. In terms of design, its elegant shape impresses without visible foldback. The VarioFix steel profile frame matches the timber frames, with a frame face of 55 mm perfectly suited to timber frames.
Plain, chic, timeless: BaseLine
Would you like a timelessly elegant room door with a welcoming character for your home? Then the door models of the BaseLine series are the perfect selection. The door leaf in a flush or rebated version – combined with your preferred surface – harmonises perfectly with your decorating style. This allows you to create a comfortable and relaxing atmosphere.
All BaseLine timber internal doors are available in four high-quality surface finishes:
Duradecor smooth

 

– particularly impact-resistant in 2 colours and 6 designs
Duradecor texture

 

– natural character in 10 timber designs
Real wood veneer

 

– unique in 14 veneers
Lacquer

 

– brilliant in 4 colours or RAL to choose
Hormann
Design Line Concepto:
The 4 × 4 concept: DesignLine Concepto
With DesignLine Concepto you can stylishly realise individual room concepts. Combine the ultra matt, slate and linen surface finishes with the Traffic white, Light grey, Anthracite grey and Taupe colours according to your wishes. They are set apart in terms of quality, ease-of-care and robustness.
Ultra matt
Velvety soft feel
Duradecor surface finish with maximum shock resistance
Anti-fingerprint for fewer fingerprints and less soiling
Can be drawn on with chalk
Slate
With raised texture
Contrast of matt and gloss
Hard-wearing
Linen
Fine texture with natural appearance
Duradecor surface with maximum shock resistance
Discover your dream door: DesignLine
The DesignLine helps you find your individual dream door. With style elements such as stainless steel embellishments, recessed grooves or modern timber-glass combinations, with real wood veneer or in colour – the DesignLine offers a range of modern door styles.
DesignLine internal doors are available in different versions.
Stripe

 

– with embossed grooves
Groove

 

– with recessed grooves
Steel

 

– with surface-mounted embellishments
Plain

 

– with flush-fitting embedded embellishments
Rail

 

– timber and glass combinations matching the DesignLine timber door styles
Pure

 

– with an embedded, streamlined glass element over the entire door leaf height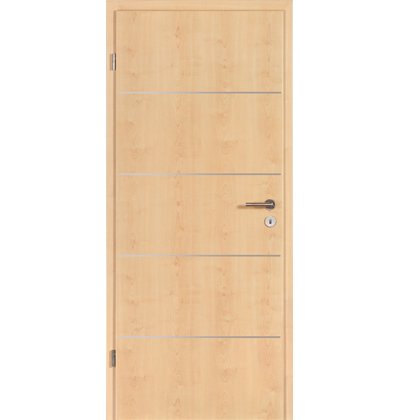 For fans of classic and elegance
Do you want a classic look that's also modern? Then our timeless DesignLine styles are the perfect choice for you. Discover your favourite DesignLine door for the perfect country house style.
All styles in this series convince with handcrafted details in the best carpenter's quality:
The particularly high-quality doors Georgia with their inlaid profile strip. The Carolina styles with embossed profiling, the new Montana with high-quality reconditioned frames and the new Kontura styles with contour-milled profiles.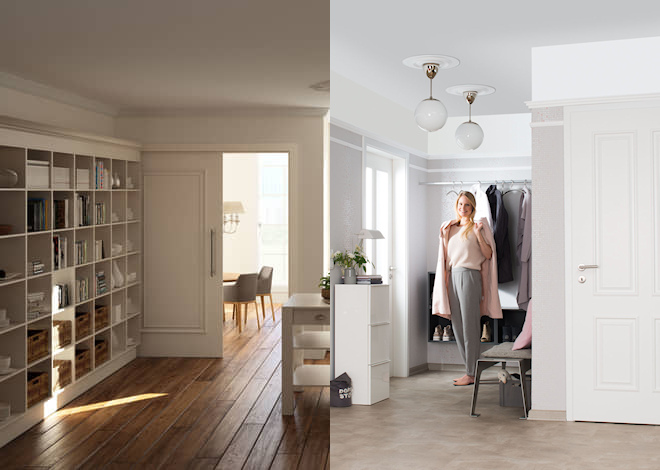 For a bright, friendly atmosphere: all-glass doors
Glass doors are not only elegant and chic, they give your home an open and welcoming atmosphere and provide each room with a special charm. Discover the all-glass door that suits you. Whether it's a hinged door with timber frame or as a sliding door.