Hutton Doors
Hormann

Brochures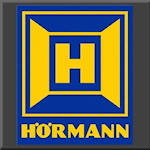 "Hörmann are one of Europe's leading provider of garage doors, front door and operators and more and more in the market of construction components now carry the Hörmann name. As a company Hörmann not only use environmentally friendly procedures for foaming, using 100% CFC-free PU rigid foam, but also with the colour coating of the doors.
Ultramodern regenerative exhaust filter systems greatly reduce the energy required and Hörmann products are developed and manufactured in our own highly specialised factories.
Our highly qualified employees work intensively on new products, continuous developments and improved details. The results are patents and one-of-a-kind products with endurance tests carried out under real conditions ensure mature series products in true Hörmann quality."
Hormann Product Range:
Garage Doors
Up & Over - Sectional - Roller - Side Hinged - Slidding - Aluminium Framed - Pedestrian Side Doors
View Brochures
To view the brochures just click the required image and the PDF book will open.
Sectional Doors
The full domestic PDF brochure  of Hormann sectional garage doors.
Up & Over Doors
Hormanns UK Up and Over PDF brochure.
Rollmatic
The exclusive Hormann Rollmatic insulated roller door.
RollMatic T
 RollMatic T the compectively price roller door from Hormann
Sliding Sectional
Hormann's side sliding sectional doors are the perfect solution for special fitting situations.
Aluminium Doors
Hormann - ThermoSafe, ThermoSafe Hybrid, ThermoPlan Hybrid
and ThermoCarbon entrance doors.
Steel Doors
Hormann Thermo65 and Thermo46 doors make for an exquisite and elegant reception.
Internal Doors
 Residential internal doors -Timber doors in premium carpenter quality and glass doors for extra light in your home
Duragrain Surface
The highly scratch-resistant and UV-resistant decor printing
guarantees a permanently beautiful door appearance.
Collective Range
Double and Collective Garage Doors Non-protruding up-and-over door ET 500, sliding door ST 500, up-and-over door N 500 garage doors.